Photorealism is an art style that takes exceptional skill and attention to detail. In photorealist paintings or drawings, the artist studies a photograph and then aims to reproduce it as realistically as possible. This art movement began in the late 1960s and early 1970s in the United States and included painters like Richard Estes, Ralph Goings, Audrey Flack, John Salt and more.
A Response to The Abstract
The photorealist art movement was in some ways, a reaction to the prevalence of Abstract Expressionism. At this point in time, photography was the leading way to reproduce reality, not paintings. The art world was focused on abstraction. The photorealist art movement was a counter to abstraction. While Abstract Expressionism focuses on broad, spontaneous strokes and emotional expression, Photorealism requires a lot of technical precision. Photorealism Art evolved from the Pop Art movement (which emerged in the late 1940 to the mid to late 1950s). 
For me art is a continuous discovery into reality, an exploration of visual data which has been going on for centuries, each artist contributing to the next generation's advancement. I wanted to go a step further and extend the boundaries.

– Audrey Flack
Photorealism Art Technique
Photorealist paintings aren't possible without the photograph. Photorealist artists plan their art with the help of the photograph and then reference this imagery. Movement is frozen in time. The goal is to create something that looks as life-like as possible with incredible attention to detail. There is a focus on the process of creating the work rather than improvisation. Photorealism art requires planning. Generally, the photograph is taken and then developed on a photographic slide. It is then transferred to the canvas. This can be done by projecting the slide onto the canvas or with traditional grid techniques. They may also use transfer paper. 
"Usually it's a pretty calculated, sustained, and slow process by which you develop something. The effect can be one of spontaneity, but that's part of the artistry."
– Richard Estes
If you're looking for photorealist art to bring life to your space, then look no further. With Zatista, you can choose from hundreds of original Photorealist paintings. We've gathered up our top picks: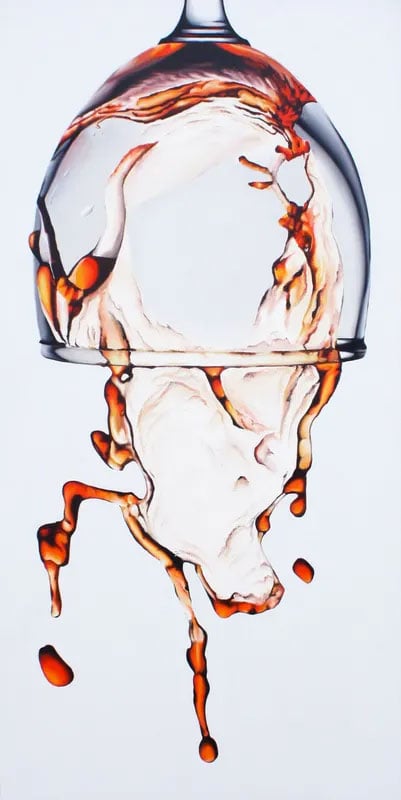 PASSIONALE by Lucia Bergamini
Painting, Oil on Canvas, 40.0 inch x 20.0 inch
"In this painting the pop / comic vein that characterizes my canvas shines through, a 'MARVEL' touch to a hyper-realistic wine."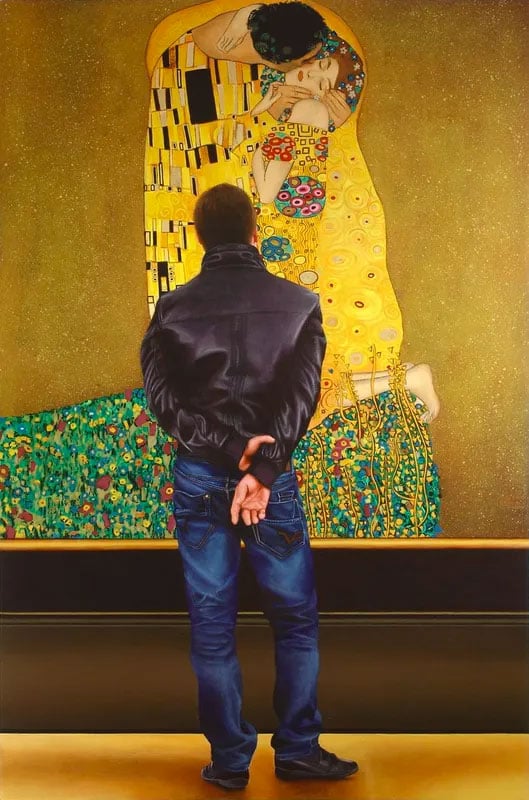 Kiss by Gerard Boersma
Painting, Acrylic on Wood Panel, 71.0 inch x 48.0 inch
"Kiss shows a man enjoying a painting entitled The Kiss by Gustav Klimt. He painted it between 1907 and 1908, the highpoint of his so-called Golden Period,when he painted a number of works in a similar gilded style. I always loved this painting and thought it would be a perfect motive for my series of paintings of people in museums."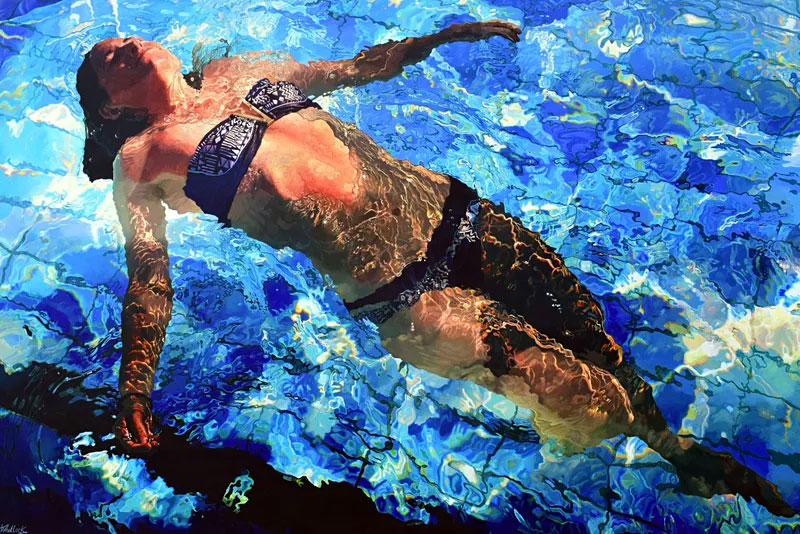 Adrift II by Abi Whitlock
Painting, Acrylic on Canvas, 39.4 inch (100.0 cm) x 59.1 inch (150.0 cm)
"A focus on escapism and submission to nature. Whilst submerged the swimmer is set free from decision making; following the currents and patterns created by the water."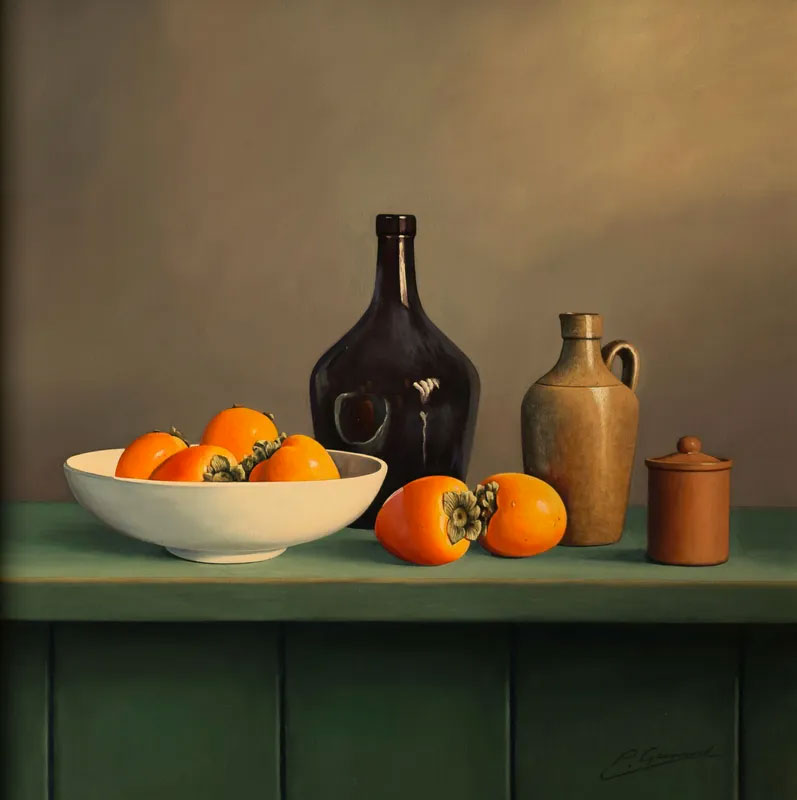 PERSIMMONS by Philip Gerrard
Painting, Oil on MDF Panel, 22.0 inch (56.0 cm) x 22.0 inch (56.0 cm)
"My realism paintings demonstrate timeless quality and appeal. They are not minimalist nor are they over composed. I prefer a fusion of classical and contemporary influences."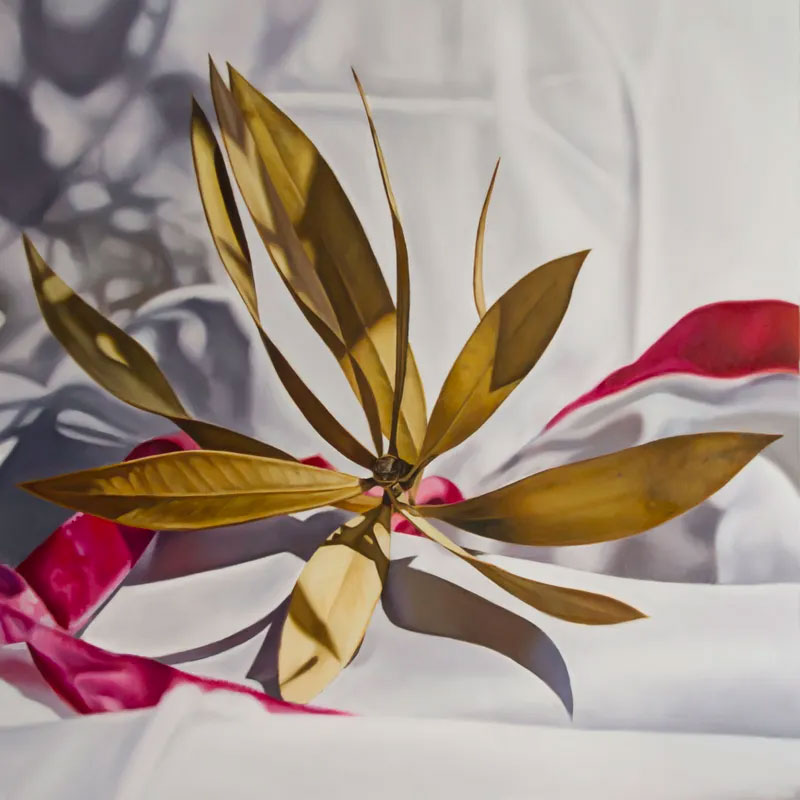 Nerium oleander with pink ribbon by Maite Backman
Painting, Oil on Wood Panel, 39.0 inch x 39.0 inch
"I picked up these Nerium Oleander leaves from the ground. They were dry but still proud with that well defined shape and golden colour."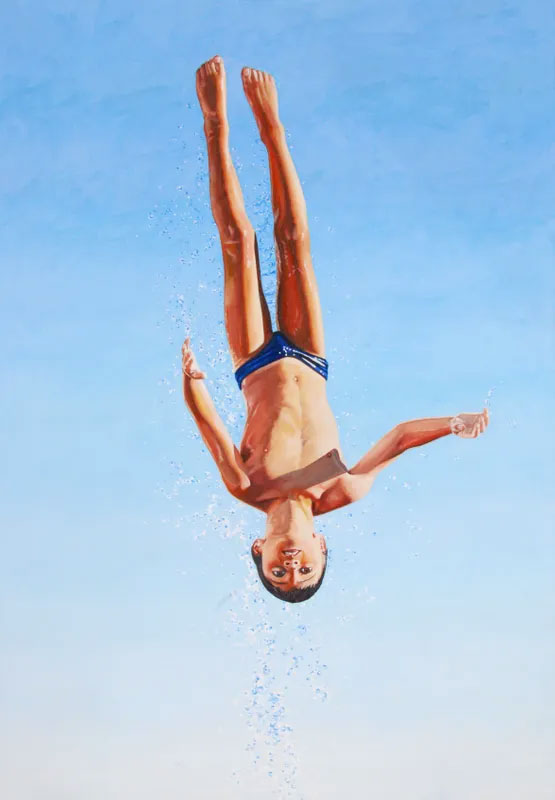 The Joy of Air by Allan O'marra
Painting, Oil on Canvas, 53.0 inch x 37.0 inch
"This is a painting of a boy who has been thrown into the air and is flying upside down through the air with water flying from his body."
—
Looking for photorealist art for your home? Building your art collection? Browse our curated gallery! You can even commission a custom painting from your favourite artist.